Apprendre l'anglais > Cours & exercices d'anglais > Exercices d'anglais > test d'anglais n°47462 : Dynastie Tudor




Dynastie Tudor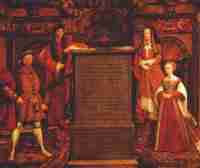 The Tudor dynasty was an English royal dynasty from 1485 to 1603.
Who were they?
Find their identity.Use the portraits to help you.


Débutants

Tweeter Partager
Exercice d'anglais "Dynastie Tudor" créé par lutzen avec le générateur de tests - créez votre propre test ! [Plus de cours et d'exercices de lutzen]
Voir les statistiques de réussite de ce test d'anglais



Merci de vous connecter à votre compte pour sauvegarder votre résultat.
---
Fin de l'exercice d'anglais "Dynastie Tudor"
Un exercice d'anglais gratuit pour apprendre l'anglais.
Tous les exercices | Plus de cours et d'exercices d'anglais sur le même thème : Royaume-Uni