Connectez-vous !



Cliquez ici pour vous connecter
Nouveau compte
4 millions de comptes créés
100% gratuit !
[Avantages]




Comme
2 millions de
personnes, recevez gratuitement chaque semaine une leçon d'anglais...
Cliquez ici !



- Accueil
- Aide/Contact
- Accès rapides
- Imprimer
- Lire cet extrait
- Livre d'or
- Nouveautés
- Plan du site
- Presse
- Recommander
- Signaler un bug
- Traduire cet extrait
- Webmasters
- Lien sur votre site




> Partenaires :
-Jeux gratuits
-Nos autres sites
Apprendre l'anglais > Cours & exercices d'anglais > Exercices d'anglais > test d'anglais n°51699 : Nature des mots




Nature des mots
LES MOTS
| | | |
| --- | --- | --- |
| noun | le nom sert à nommer une personne, animal, chose, idée, action | teacher, cat, table, thought... |
| verb | le verbe décrit une action, un état | run, sleep, believe... |
| adjective | l'adjectif décrit un nom | green, tall, famous... |
| adverb | l'adverbe modifie le sens d'un verbe, adjectif ou adverbe | there, fast, tomorrow... |
| pronoun | le pronom remplace un nom | he, them, her, who... |
| conjunction | la conjonction relie deux mots, deux propositions | and, by, because... |
| preposition | la préposition se place devant un nom, pronom | on, in, at, over, with... |
| article | l'article introduit le nom | a, an, the |
This is Peter (nom propre), he is a boy (nom commun)
Look at those fireworks ! (verbe d'action) They are so beautiful ! (verbe d'état).
Her children are nice, they make her happy.
We live near London, we often go to the theatre.
Give me that ball, it is mine.
Tom and ((conj. de coordination) Jack went to the park after (conj. de subordination)they had done their homework.
une conjonction de coordination relie deux éléments de même nature (noms, adjectifs, verbes, propositions..)
une conjonction de subordination introduit une proposition subordonnée.
In the morning I go to school, at noon I have lunch at home.
We are leaving in an hour, I don't want to miss the train.
ROBIN HOOD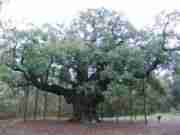 The major oak in Sherwood forest
is over 800 years old
EXERCICE: mettre dans chaque case la nature du mot qui précède.


Intermédiaire

Tweeter Partager
Exercice d'anglais "Nature des mots" créé par lili73 avec le générateur de tests - créez votre propre test ! [Plus de cours et d'exercices de lili73]
Voir les statistiques de réussite de ce test d'anglais



Merci de vous connecter au club pour sauvegarder votre résultat.
---
Fin de l'exercice d'anglais "Nature des mots"
Un exercice d'anglais gratuit pour apprendre l'anglais. (tags: grammaire )
Tous les exercices
| Plus de cours et d'exercices d'anglais sur le même thème :
Grammaire
Fiches de grammaire anglaise
|
Documents audios/vidéos en anglais
|
CREER UN TEST