Apprendre l'anglais > Cours & exercices d'anglais > Exercices d'anglais > test d'anglais n°6398 : Lady Diana: biographie




Lady Diana: biographie
> LADY DIANA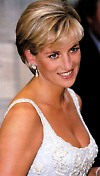 Gros plan sur... Lady Diana
> FULL NAME: Diana Frances Spencer

> TITLE: Her Royal Highness The Princess of Wales

> BORN: July 1, 1961 at Park House, Sandringham, Norfolk (England)

> DIED: August 31, 1997 in Paris, France

> MARRIED: Prince Charles on July 29, 1981, at St Paul's Cathedral, London. Watched by 750 million people worldwide on television.
She was the first Englishwoman to marry an heir to the throne in over 300 years.

> CHILDREN:Prince William, born on June 21, 1982 and Prince Henry (Harry) on September 15, 1984, both at St Mary's Hospital, Paddington, London

> SEPARATED: December 9, 1992, announced by Prime Minister John Major in House of Commons.

> HOMES: Kensington Palace, London

> SCHOOL AND CAREER:
... 1966 until 1974 : Riddlesworth Hall Prep School at Diss, Norfolk
... 1974-77 : West Heath near Sevenoaks, Kent
... 1977-78 : finishing school at the Institute Alpin Videmanette in Rougemont, Switzerland.
... In 1979 she moved to a flat at Coleherne Court in London and for a while looked after the child of an American couple. She then worked as a kindergarten teacher at the Young England school in Pimlico, London.
> BIGGEST ACHIEVEMENTS:
... Becoming the most famous woman in the world and raising awareness of several social issues including AIDS, poverty, drug problems, homelessness. Diana was involved with dozens of charities and had a particular interest in children and AIDS victims. She held honorary ranks with several regiments of the Armed Forces. She was an excellent pianist and is patron of several music organisations and charities.
... Promoting British fashion and the United Kingdom throughout the world.

Exercice :
> Un étudiant a rédigé une courte biographie de Lady Di en s'inspirant des notes ci-dessus et d'autres documents. Malheureusement, il manque quelques informations que vous trouverez dans les notes ci-dessus.



Intermédiaire

Tweeter Partager
Exercice d'anglais "Lady Diana: biographie" créé par webmaster avec le générateur de tests - créez votre propre test ! [Plus de cours et d'exercices de webmaster]
Voir les statistiques de réussite de ce test d'anglais



Merci de vous connecter au club pour sauvegarder votre résultat.
---
Fin de l'exercice d'anglais "Lady Diana: biographie"
Un exercice d'anglais gratuit pour apprendre l'anglais.
Tous les exercices | Plus de cours et d'exercices d'anglais sur le même thème : Royaume-Uni