Apprendre l'anglais > Cours & exercices d'anglais > Exercices d'anglais > test d'anglais n°95849 : Poisson vampire du Brésil




Poisson vampire du Brésil
Giant candiru catfish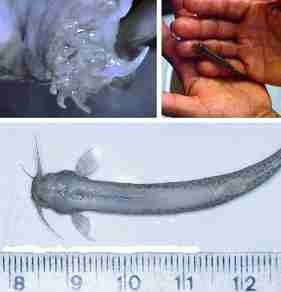 Candiru (English and Portuguese) or candirú (Spanish), also known as cañero, toothpick fish, or vampire fish, are a number of genera of parasitic freshwater catfish in the family Trichomycteridae; all are native to the Amazon River. Although some candiru species have been known to grow to a size of 40 centimetres (16 in) in length, others are considerably smaller. These smaller species are known for an alleged tendency to invade and parasitise the human urethra; however, despite ethnological reports dating back to the late 19th century, the first documented case of the removal of a candiru from a human urethra did not occur until 1997, and even that incident has remained a matter of controversy.
Candirus are small fish. Adults can grow to around 40 centimetres (16 in) with a rather small head and a belly that can appear distended, especially after a large blood meal. The body is translucent, making it quite difficult to spot in the turbid waters of its home. There are short sensory barbels around the head, together with short, backward pointing spines on the gill covers.
Candirus (Vandellia) inhabit the Amazon and Orinoco rivers of lowland Amazonia, where they constitute part of the Neotropical fish fauna. Candirus are hematophagous and parasitize the gills of larger Amazonian fishes, especially catfishes of the family Pimelodidae (Siluriformes).
Le candiru (Vandellia) est un poisson d'Amazonie, dont on recense une douzaine d'espèces, parasitaires ou nécrophages. Parmi elle, (Vandellia cirrhosis), également appelé poisson vampire du Brésil, parasite de la famille Trichomycteridae est connu pour remonter les flux d'urine et pour se loger dans l'urètre. Ce type de parasitage relève toutefois de l'accidentel. Sa technique consiste à se loger dans sa victime, par les branchies, et à déployer ses piques afin de rester accroché et à se nourrir du sang et de la chair de sa victime.
Candiru est énormément craint par les populations locales qui se méfient plus de lui que des piranhas. Sa dangerosité pour l'homme serait toutefois exagérée. Le candiru est décrit comme attiré par le sang et l'urine bien que les études scientifiques montrent que ce poisson chasse à vue. Il parasite généralement les autres poissons plus gros que lui, comme le poisson-chat, mais se montre également capable de dépecer un cadavre en quelques minutes.
Source Wikipedia



Avancé

Tweeter Partager
Exercice d'anglais "Poisson vampire du Brésil" créé par tizeph avec le générateur de tests - créez votre propre test ! [Plus de cours et d'exercices de tizeph]
Voir les statistiques de réussite de ce test d'anglais



Merci de vous connecter au club pour sauvegarder votre résultat.
---
Fin de l'exercice d'anglais "Poisson vampire du Brésil"
Un exercice d'anglais gratuit pour apprendre l'anglais.
Tous les exercices | Plus de cours et d'exercices d'anglais sur les mêmes thèmes : Animaux | Mots